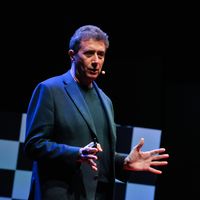 About
Present position: since 12/2009 Center for Nano Science Technology @ POLIMI Istituto Italiano di Tecnologia Reseracher-Principal Investigator Center Coordinator Via Pascoli 70/3, 20133 Milano Italy and since 11/2011 Department of Physics, Politecnico di Milano Full Professor of Physics P.za Leonardo da Vinci 32, 20133 Milano Italy Previous appointments: 1999-2011 Associate Professor in physics at Politecnico di Milano. 1994-1999 Assistant Professor at University of Sassari. 1992-94 Post Doc at ISM-C.N.R., Bologna 1992 PHD in Chemical Physics. 1989-90 visiting scientist at University of Utah, SLC-UT, USA. 1987 Physics degree (laurea). GL has a background in the photo-physics of nanostructured and molecular materials. His research activity, reported in more than 300 publications, regards applications in energy, bio-photonics, neuroscience and medicine. In particular, the overarching goal of the research is to induce light sensitivity in living cells, tissue or organism by developing new light actuators. He is involved in the project for developing an artificial retina prosthesis. He is involved in two start-up companies.
2022
Vurro V., Venturino I., Lanzani G.
A perspective on the use of light as a driving element for bio-hybrid actuation
Applied Physics Letters, vol. 120, (no. 8)
2022
Magni A., Bondelli G., Paterno G.M., Sardar S., Sesti V., D'Andrea C., Bertarelli C., Lanzani G.
Azobenzene photoisomerization probes cell membrane viscosity
Physical Chemistry Chemical Physics
Article Journal
2022
Paterno G.M., Chen Q., Munoz-Marmol R., Guizzardi M., Bonal V., Kabe R., Barker A.J., Boj P.G., Chatterjee S., Ie Y., Villalvilla J.M., Quintana J.A., Scotognella F., Mullen K., Diaz-Garcia M.A., Narita A., Lanzani G.
Excited states engineering enables efficient near-infrared lasing in nanographenes
Materials Horizons, vol. 9, (no. 1), pp. 393-402
2022
Bonfadini S., Nicolini T., Storti F., Stingelin N., Lanzani G., Criante L.
Femtosecond laser-induced refractive index patterning in inorganic/organic hybrid films
Advanced Photonics Research
Article in Press Journal
2022
Bianca G., Zappia M.I., Bellani S., Ghini M., Curreli N., Buha J., Galli V., Prato M., Soll A., Sofer Z., Lanzani G., Kriegel I., Bonaccorso F.
Indium Selenide/Indium Tin Oxide Hybrid Films for Solution-Processed Photoelectrochemical-Type Photodetectors in Aqueous Media
Advanced Materials Interfaces
Article Journal
2018
lanzani g.
L'innovazione per lo sviluppo sostenibile
Festival dello sviluppo sostenibile
2017
Lanzani G.
Dalla vita alla vita: il carbonio nella tecnologia"
2017
Lanzani G.
Dalla vita alla vita:il carbonio nella tecnologia"
2017
Lanzani G.
Energy for XXI century"
Fondazione Accademia di Comunicazione
2017
Lanzani G.
Towards an organic artificial retina"
2019
Paternò G.M., Moscardi L., Donini S., Ariodanti D., Parisini E., Kriegel I., Lanzani G., Scotognella F.
Hybrid plasmonic/photonic crystals for optical detection of bacterial contaminants
PIERS - PhotonIcs & Electromagnetics Research Symposium
2019
Lanzani G.
Organic actuators for cell opto stimulation
13th International Conference on Optical Probes of Organic and Hybrid Opto Electronic Materials and Applications
2019
Lanzani G.
Organic light actuators for non genetic cell opto stimulation
5th International Fall School on Organic Electronics
School (Summer school, ...)
2019
Paternò G.M., Lanzani G.
Organic light actuators for non-genetic optical stimulation
OSA - Advanced Photonics Congress
2019
Lanzani G.
Organic nano actuator for cell opto stimulation"
Organic Ultrafast Phenomena and Nanophotonics XXIII-SPIE Photonics West
Colleagues of Nanomaterials for Energy and Lifescience