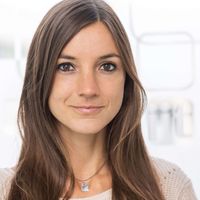 About
Marta Lorenzini is a post-doctoral researcher at Human-Robot Interfaces and Physical Interaction (HRII) Lab, Italian Institute of Technology (IIT). She received the B.Eng. and M.Eng. degree in Biomedical Engineering at the Politecnico di Milano (Italy), in 2014 and 2016, respectively. In 2016 she was a research fellow at the Dynamic Interaction Control Lab, IIT. In 2020, she received her Ph.D. from Politecnico di Milano in collaboration with IIT-HRII Lab. She is currently involved in Horizon-2020 project SOPHIA and ERC project Ergo-Lean. She was the winner of the Solution Award 2019 (Premio Innovazione Robotica at MECSPE2019) and the winner of the KUKA Innovation Award 2018. Her research interests include human kinodynamic states real-time monitoring, human ergonomics estimation and assessment, physical human-robot interaction and feedback interfaces.
2022
Kim W., Ruiz Garate V., Gandarias J.M., Lorenzini M., Ajoudani A.
A Directional Vibrotactile Feedback Interface for Ergonomic Postural Adjustment
IEEE Transactions on Haptics, vol. 15, (no. 1), pp. 200-211
Article Journal
2022
Lagomarsino M., Lorenzini M., De Momi E., Ajoudani A.
An Online Framework for Cognitive Load Assessment in Industrial Tasks
Robotics and Computer-Integrated Manufacturing, vol. 78
2022
Lorenzini M., Kim W., Ajoudani A.
An Online Multi-Index Approach to Human Ergonomics Assessment in the Workplace
IEEE Transactions on Human-Machine Systems, vol. 52, (no. 5), pp. 812-823
2022
Merlo E., Lamon E., Fusaro F., Lorenzini M., Carfi A., Mastrogiovanni F., Ajoudani A.
Dynamic Human-Robot Role Allocation based on Human Ergonomics Risk Prediction and Robot Actions Adaptation
Proceedings - IEEE International Conference on Robotics and Automation, pp. 2825-2831
Conference Paper Conference
2022
Merlo E., Lamon E., Fusaro F., Lorenzini M., Carfì A., Mastrogiovanni F., Ajoudani A.
Dynamic Human-Robot Role Allocation based on Human Ergonomics Risk Prediction and Robot Actions Adaptation
IEEE International Conference on Robotics and Automation (ICRA)
Conference Paper Conference
Colleagues of Human-Robot Interfaces and Interaction